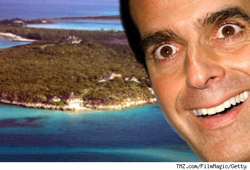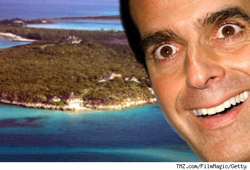 When sexual victims begin to create webs of deceit?
It seems that disgraced celebrity magician David Copperfield may once again be allowed to take his rightful place in Lion's dens and that big place called your star lust imagination. Why? Because apparently the police are beginning to suspect the 'ho' who called suspicion upon Mr Copperfield in the first place as a lying scheming bitch. The evidence courtesy of TMZ who couldn't wait to tell you this breaking story (yawn…)
TMZ- The woman who accused David Copperfield of sexually assaulting her had made a similar claim against another man, and cops are saying there is evidence that she gave false statements to a police officer and engaged in prostitution … this according to a news report.
Okay that may be true, but just because she may have fibbed about the latest story does it necessarily follow that she was fibbing about Copperfield? After all look at those deep brown eyes, don't they come off as a sexual lecheror?
Continues the story-
According to The Seattle Times, the woman — a former Miss Washington Pageant contestant — was questioned by cops after a man claimed she tried to charge him for sex.
TMZ has obtained a copy of the police report, which states the man claimed she performed oral sex on him in a hotel room in Bellevue, Washington on December 2. According to the report, the man says the woman then told him, "put $2,000 in my purse and you can have it all."
$2000? Mmh, me is wondering what Davey coughed up. I'd say at least another two zeros behind the $2000.
Continues the pony tale (cause like you we all adore pony tales)-
He told police when he refused to ante up money, she left the room — sans panties and tights — went to the hotel lobby and told hotel workers she had been "taken advantage of."
The man called cops and said he was being extorted. She also called the cops, claiming she didn't remember going to the room and when she came to he was on top of her.
In any event the whole thing is just too bizaare and confusing and as much as we know David had his hands some where in all of this we just simply give up and we'll give him the benefit of the doubt. After all he does have large lovable brown eyes that could make you weep…(or not).
Source: tmz