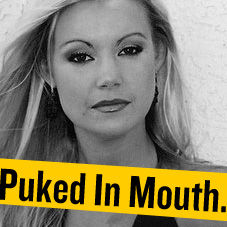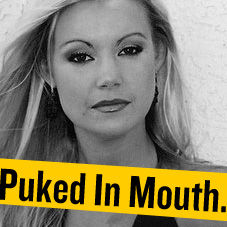 Pandemonium on the Golf Course.
Just when you thought Tiger Woods was America's lovable 'home boy' champ golf player it's now turning out our favorite photogenic hero is also a roving Lothario who just seems to never get enough. With this weekend's release of now the 7th woman to come out and admit that they too were haplessly seduced by the Tiger, the world is left to wonder if the word 'squeaky clean geek' can ever be resurrected. Reports the NY Daily News:
Cori Rist is now one of at least six women linked to the golf world's top swordsman.
The 31-year-old leggy and busty blond spent Sunday calling friends, saying, "My involvement with Tiger Woods has just surfaced," according to a pal.
Adding to the fun is the revelation that porn star Holly Sampson is now the 7th woman to be added to Tiger's dossier:
How did the Tiger manage his extra curricular affairs behind his wife's back? Let's find out. Says Rist (girl number 6):
"Tiger would typically get a large suite at a hotel. Someone would book Cori an adjacent room, so she wouldn't be seen coming into his room," an insider told Rush and Molloy.
"He would get the presidential suite," the source continued. "It was the ultimate in luxury. The trouble is, he never wanted to leave the room."
Oh the fun one can have on and of course off the golf course. The details to this 'interesting' dangle are as follows:
While most of the women who have come out of the woodwork were often flown around the world to meet him, Woods didn't have to stray far from the comforts of his Florida home to find booze and blonds who were not his wife.
Luckily for the Tiger who is now in hiding (we wonder why?) Oprah Winfrey has extended herself (how gracious…) and has summoned the Tiger to come out of captivity (we mean hiding) so he may exonerate himself. How kind of Oprah…
Continues the NY Daily News;
He found plenty of homegrown action at Orlandoclubs just minutes from his family home in Windermere, Fla., The News has learned.
He was a regular in the VIP rooms at Blue Martini and Club 23, where the billion-dollar man has been known to drop $1,500 a night at the swanky joints.
"When Tiger goes out in Orlando he certainly goes to Blue Martini," a local club insider told The News. "Any rich and horny guy from the suburbs can go there and leave with a girl on each arm."
In any event, we are waiting for the whole town to come and confess that they too had a town orgy with Tiger in the middle of it all. As for corporate sponsorship for Tiger, that's a foregone bye bye- oh well life was good for a while.
What you can't find on the golf course you can always find at an 'action' club if inclined…
Porn star Holly Sampson is seventh woman linked to Tiger Woods as sex scandal continues to grow – NY Daily News.