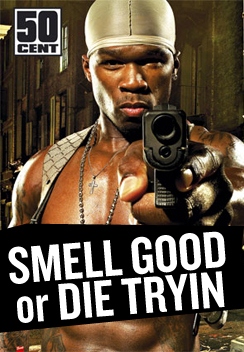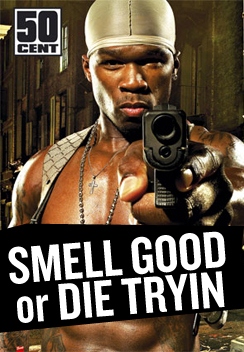 Even rappers can now sell fragrance to the masses. Junk in America.
Celebrate the launch of "power," a new, dangerously gangster fragrance by 50 rap artists, 50 Cent, this Thursday, November 5th. A mix of black pepper, coriander, lemon and nutmeg, this fragrance bottles up what people often find only on the streets or in the office: Power.
A rapper's solution to excel without guns, bullets, or prostitutes, now is your chance to reek "sexy rapper" or "rich banker" without ever having to leave you font porch! Hurry up and get your ass bamboozled and hoodwinked by the next 'power' star.
Invite your hot girlfriend into the bedroom without ever having to sing or buy flowers. Given a single serving of this delectably high bass fragrance, you'll be "in the club" with her on a hot Monday afternoon.
50$ per 1.7 ounce the two-piece gift set is near 69$ and both totally worth your while, a down-to-earth phenomenon, your pimps n' hoes will be fighting for your arm, breast, and thigh. Dawgs on the street may hump your leg, too so watch out.
Don't spray too much!
The brutish, ravenous scent may lure uninvited gangsters to your dinner table, so if you have "Power" on your skin, keep a machete in your pocket.
Stormy biceps, cologne-rich dangers and platinum-teeth are soon for purchase, thanks to Gangsta-C 50.
Bring rap underground onto the surface, the surface of your skin that is, and celebrate the bulletproof irony cause we certainly do.