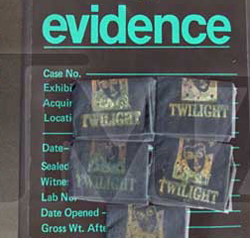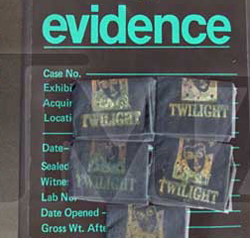 Taking merchandising to a whole new level.
Forget "Team Edward" and "Team Jacob" t-shirts— they are so last season. The new must have for Twihard fans are apparently baggies of heroin emblazoned with Robert Pattinson's face.
TMZ reports:
"DEA Special Agent Erin McKenzie-Mulvey tells us the heroin baggies with "Twilight" characters were seized recently in West Hempstead, Long Island. The "Twilight"-themed baggies have been gaining popularity over the last couple of months."
There is outrage, of course, that dealers are "trying to use the popularity of Twilight to peddle their illegal drugs," although the idea of an established addict being in the slightest bit interested in having Pattinson gazing on as they jack up seems almost as unlikely as a teenager saying "No, no heroin for me, thank you, Mr Drug Dealer. Oh, wait, is that Edward Cullen on those little bags? Why, in that case I'll take two please."
One can only suspect that some outwardly hardcore dealer, somewhere, actually has a secret penchant for teenage vampire romance and is referencing the moment where Bella swooningly asks Edward if she is his particular brand of heroin. For some reason I find that scenario rather pleasing.