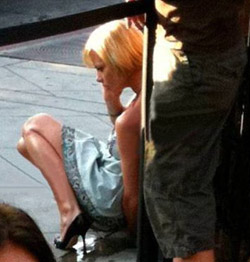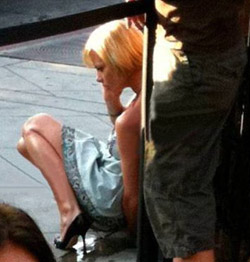 Then who did?
According to the latest nonsense coming out of Hollywood is whether or not cute blonde bimbo – Jaime Pressy pee in public. Apparently the whole thing has gotten so bad Huffington Post have even set up a direct line where you get to vote yes or no whether dimwit blonde drunk actress on a Sunday inebriated afternoon peed on her pants.
Not yes or no – vote here would you like to change health care, not yes or no would you like to eliminate douche bags from Hollywood, not yes or no would you like to see poverty eased but yes or no did Jaime piss on her pants- please watch slow motion video and you tell us.
Whether an indicator of current aesthetics or just the media trying to drum up some fun this August (yes , that's a good excuse- let's blame the weather and the booze) it seems the media is hung up about whether Jaime peed on her pants.
Honestly shouldn't you be hung up about it too?
In any event Jaime has twittering the whole world – "C'mon guys, (hiccup) – do you think I would do that? It was just a bottle of water…
The fun and meaningful things we like to pay attention to…If only Sarah Palin could play this trick in Alaska too then we'd have the Russians writing about it too.