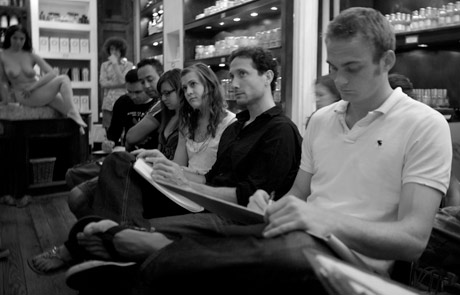 After having recently written the article on Artists 4 Israel's inaugural (S)kin Life Drawing class, I was graciously welcomed to the second. It was held at Sabon's flagship store on Spring Street in Soho, a beautiful if not unusual venue for an art class. They repaid my kind words with cheap wine and a colored pencil in case I wanted to draw the models. The wine was cheap. I mean, really, it was swill. But the colored pencil was nice. And the atmosphere was such that for some brief moments, I traded my sinister pose and sarcastic, snarky writer facade for a bit of artistic play.
Sitting on the ground next to many art supply kits, backpacks filled with rattling spray paint bottles and the three discarded tunics of now nude models who were framed quite naturally by Sabon's running fountain and colorful, tranquil interior, I watched as the mood was set.
Once again, the room was at full capacity with faces and bodies adorned with the latest fashions, trends and looks of complete assimilation. I do not play the game of guessing one's faith as it is impossible to spot a circumcision when writing at 10,000 feet, but if there were any Jews (this being Artist's 4 Israel) it was nearly impossible to discern them as by now had any been present they had all taken the guise of perfunctory scenester, Hipster and incorrigible dilettante. Intrigued that the event wasn't a guise for a rattle call I proceeded further…
From what I could ascertain, Artists 4 Israel speaks to the trend-formers and style-shifters of New York. Their guests represent the most diverse, eclectic and influential crowd within the city. What was of particular interest to me was whether or not A4I could speak to the masses they had attracted, inspire them to support Israel and find a means for turning that support into action?
Craig Dershowitz, the heavily tattooed, guerilla advocate who is President of Artists 4 Israel, then proceeded to speak. He spoke, unashamedly, of cow shit being turned into an energy source. He then weaved tales of killer owls, trained by Israeli farmers to kill rodents and, thus, reduce the need for pesticides. Thankfully his speech lasted no more than 5 minutes.
Mingling amongst the nude models and the assorted guests, graffiti artists, slackers and as I have said general dilettantes it was intriguing to hear a rendering of political discourse mixed in with a debate about breast size (one hipster obviously having been weaned off the nipple way too early). Such are the affairs of a new breed of drawing class I thought.
Maybe it was the very bad wine, but in that moment, I kind of understood what  A4I's president Craig Dershowitz meant when he said, "Israel is like a naked woman – beautiful, powerful and in need of an honest eye."
By then I had ceased to become a stalker but a participant in the unfolding engaging events . It occurred to me that Artists 4 Israel had achieved the near impossible – inclusion. They had created an atmosphere where participation was not mandatory but impossible to ignore, they had stripped the sarcasm and apathy from the most desirous of attendees and found a personal and ideological connection. Artists 4 Israel had connected  those who had no reason to connect to Israel, and held them there with honesty, cheap wine and the potential of a blank page upon which to create. It was more than likely I'd come back, albeit with my own bottle of red…