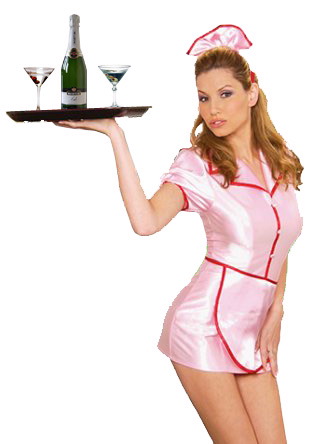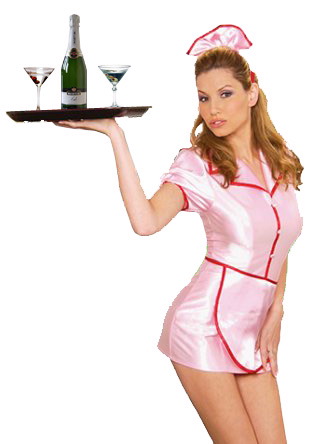 Two things entered my mind when I read the Craigslist posting: I need the money and I can be sexy. That's what this group of men wanted. Specifically:
"2 sexy bartenders to serve drinks and good times. Must be sexy, good looking and friendly. Be fun. Bottom line: 4-5 professional guys want to have drinks, play poker, and go out. Please send recent pics and desired rate."
I didn't know exactly what they meant when they requested the ability for their bartender to serve up a "good time." But, thinking about my need for cash, I decided I was willing and ready to take the risk. If only they would pick me…
I had my doubts. A friend of mine, let's call him Juan, tells me I am cute, but not sexy. He should know, being a retired porn star. Apparently I have that slim-hipped, tom-girl, poet look going for me. But I am not a runway model or exotic or voluptuous.
Sexy is something I have sought since my parents dropped me off at Catholic school in 7th grade. When I walked into St. Christine's as the new girl, with my penny-loafers and to the ass pony-tail slicked tight to the middle of the back of my head, I was the only girl wearing uniform shorts in the heat of an Ohio August. The boys all had on navy Dickies and the girls, what else? Short, short schoolgirl skirts exposing their long, clean-shaven and summer tanned legs.
I had my work cut out for me and I set to it like a scientist. I observed the girls who got asked to dance on Friday nights when we would, excuse me, when they would, get down in the darkened gymnasium. I watched everything: the way they gyrated their recently pubescent hips, how they leaned forward when they laughed at lunchtime, grabbing onto their desk like they had too much inside and wanted to give some away, and how they raised their hand in class, cocking their elbow out first like they were nervous, gracing their hair with their fingertips and then, all palm-exposed, shoved it to the sky at last.
I wanted to be them. A beautiful girl. A sexy girl. By high school, I had taught myself how to chew gum to attract attention to my lips, clear glossed to look wet in expectation of a kiss. I could make my hair messy like I had been on the beach all day and wear make up to give my eyes depth and my cheek bones dimension, but not cross that line into "cake-faced-ness." I was striving for that image of beauty found on the front cover of teen magazines featuring articles like, "The Perfect Arch: Pluck Your Own Eyebrows in Ten Minutes or Less" or "How to Flirt Like the Prom Queen."
Sticking my chest out a bit, I started browsing my Facebook page looking for the perfect "pics." I decided to go for artistic vixen and settled on sending two photographs. One of my face with my eyes looking frank, but foxy. Another of my lips, twisted into a grin, collarbone exposed with a large piece of hand made jewelry hanging fixed. Yes, I thought, Juan would be proud.
Then I went back to browsing Craigslist and continually checked my email. No news.
At about 7:30pm, a message lit up my computer screen. It was the Judge, handing me the verdict in my narcissistic case. Am I sexy, am I sexy, am I? Sort of. His message read:
"The second bartender canceled last minute. Can you make it by nine?"
Interesting, I thought, I'm a back up pick! I wrote to him, confirming that I could be there, asking where "there" was (he hadn't given me an address yet). The minutes ticked past. No reply. Finally, I realized he must have sent a dozen emails out to a circle of second rounders. Either I didn't respond quickly enough or I wasn't at the top of his list.
I opened a bottle of wine, wondering what the girls he chose looked like. A dizzying array of questions flew through my head: did they send pictures with their whole bodies in view, have bigger breasts, fuller lips, whiter teeth and curvier hips? Then I remembered something and started to grin. Karma was teaching me a long overdue lesson.
I had held a similar contest as a kid. A few of my friends and I wrote down the names of the girls in our class. Beside the name, we wrote a number on a scale from one to ten. Ten was beautiful. One was hideous. We generously gave ourselves "eight's." Beside the name of an unsuspecting child, we wrote a "three." Somehow she found out and then so did our teacher, Ms. Whipple.
There were severe consequences. Ms. Whipple gathered us together and in the tone of some drill sergeant, informed us that if we continued down this path of degradation, we were sure to end up "gangsters." How low we had sunk into the world of vanity! And at such a young age!
A decade and a half later, I had surfaced in the adult world where life seems more complex than Ms. Whipple had made it out to be. But perhaps that's an excuse- me attempting to wipe away the residue of morality. Let's be honest. I had just tried to make money off of my body- whether or not I let them touch me. And here I was, denied, staring my own "three" in the face. Who's bringing sexy back? Apparently not me.