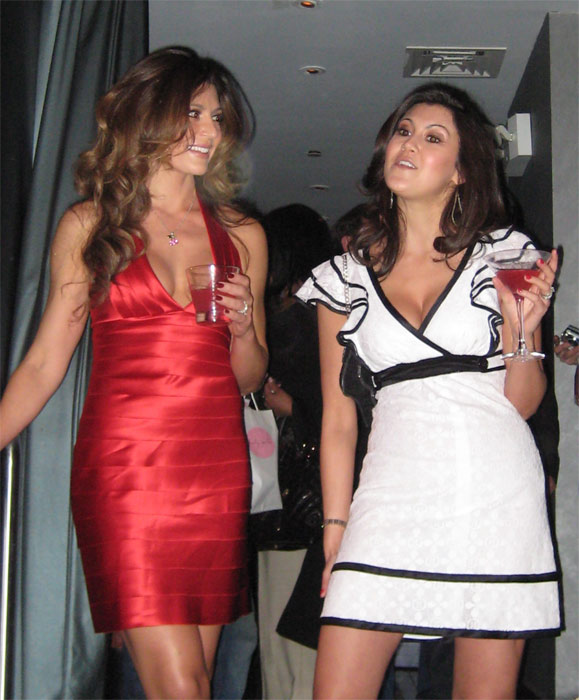 A relatively skilled young lover who qualifies as a reasonably hot chick, it may not have been entirely necessary for me to attend last Tuesday's "How to Love Like A Hot Chick," release party. But with promises of vodka and seduction, I couldn't turn down the invitation. Hosted at the W hotel by the book's bombshell authors, Cerina Vincent and Jodi Lipper, the soiree was fuelled by bosom-baring dresses, stiff cosmos and stimulating conversation. Although it's fair to say the stimulation wasn't just bound to the conversation…
Tipsy men downing pink cocktails in futile attempts to make the 'nots' hot barricaded the bar, forcing me to postpone crucial cosmo consumption. Relatively sober and in need of a mid-week thrill, this chick ventured back to Booty Parlor's table of erotic goodies where orgasm-hungry attendees licked off edible body cream, tickled one another with feather-crowned whips and were tempted by the ultimate playtime essential: a pair of vibrating lace panties.
Excited by the prospect of product promotion, an enthusiastic brand-rep spritzed me with a sample of the Kissaholic Aphrodisiac Infused Breath Mist. I can certainly offer a customer testimonial, for no sooner had my new spicy musk been applied (or was it just my leather leggings?) an aggressive over-the-hill Italian stallion called Gianne Carlo suddenly appeared. Unescorted, the balding bachelor complained about his high-maintenance girlfriend and expressed his hopes that the book nestled in his gift bag might teach her a few new tricks. However, he must not have had very much faith in 'the absent twit,' for after giving his humdrum entourage a less than subtle wink, Gianne Carlo proceeded to stalk me for the rest of the evening. In his defense, he brought a healthy dose of machismo to the estrogen infused event.
As the booze and the pillow talk began to flow more freely, eccentrics crept out of the woodwork. Hairstylist to the stars, Nereida Soto, vogued in her Dr. Seuss-meets-Vivienne Westwood ensemble while preaching the importance of "pussy power," and a saucy young lady in a feathered flapper cap attributed her success in the realm of hot 'n spicy to "experience and moxy, of course."
Despite the party's swinging ambience, the focus was on Cerina and Jodie's book. A girlpower manifesto, the new release teaches women that self-confidence, strong friendships and a sexpot attitude both in and out of the boudoir are the secrets to self and sexual fulfillment. If you don't love like a hot chick, or even if you do, this wonderfully positive book promises to be a pussy pleaser.
Absent or not…