Fashion
Published on March 7th, 2011 | by Scallywag
3
Andrej Pejic- In search of a sex change.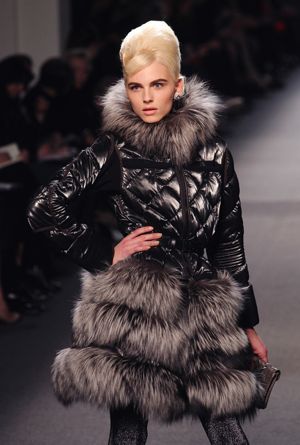 At only 19 this young Australian (via Serbia)- Andrej Pejic has unlike any male model in recent time caused a type of delirious pandemonium in the annals of fashion. Whether it's the fact that he looks like a beautiful woman or the fact that he just happened to come along at the precise time that the fashion world was switching gears from gaunt underfed men to effeminete androgynous males, perhaps as a reaction to the counter culture or in spite of it, Andrej Pejic has served by his presence to redefine the spirit of fashion.
That said, off the back of having done some shows in Paris (earlier in January for the men's collections) and then to NYC and then back to Paris (but for the women's collections- a rarity indeed) the UK Telegraph interviewed the young man (yes- he is a man) and quizzed him with respect to his thoughts on his success and what it actually takes to have a career in the industry. Which if one can allow this author to answer, after all I am a retired fashion model- what it takes is fortitude, discipline and a resilient will. The rest frankly is often beyond you, but a clever model will always read between the lines and market themselves accordingly, which Mr Pejic has been able to do rather well it seems.
huffingtonpost: When asked if he'd consider getting a sex change, Pejic said, "Yes, if I was offered a Victoria's Secret contract. You'd have to, wouldn't you. I can't imagine doing it any other way. But, at this point I'm comfortable with who I am now."
Which only serves to underscore the young man's understanding that the fashion industry has always been topsy turvy with its own particular whims and frankly if one is to survive it, the occasional sex change will certainly help keep one rather busy and assured of a steady career. Of course the risk is that suddenly the trend will once again change, but for right now, it seems we're all quite fine watching young men walking on stage reminding us of a flat chested Brigitte Bardot- after all blondes have all the fun, until they don't…
Reflections of a former Male Model